Laughter
Tears
Watcher on the Hills
Mystic Rose Meditation is longer, more powerful and will take you into a deeper place inside yourself than any of the shorter techniques. It requires a greater commitment, not just of your time but of your willingness to dig deep within yourself. The benefits are also much longer lasting and, as they are more deeply rooted within you, will bring a profound transformation on the emotional, physical and mental levels.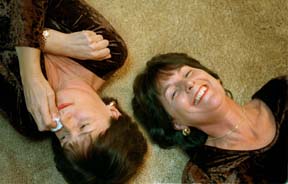 This technique was created by Osho as the second in a series of what he called 'Meditation Therapies'. Because many of us have lost the capacity to sit in silence, these techniques were developed to work as a bridge, to clear the ground for deeper meditation. They are perfect for handling the pressures of our 21st century lifestyle, designed as they were to release us from years of repressed emotions, of physical tensions in the body and old mental ideas and beliefs that no longer work for us. So much energy is tied up in unexpressed emotion. By letting the feelings out, we can then go into deeper and deeper layers, releasing and healing.
They open up our whole energy system, working on the emotional body, doing emotional clearing, releasing stress, pain, anguish, despair. The physical and psychological transformation that can happen through the practice of these techniques creates the potential for more love, more gracefulness, more flexibility and more joyousness in all aspects of our lives.
Mystic Rose Meditation is one of the most powerful and simple forms of meditation ever devised. I consider it the greatest revolution in meditation since Vipassana was developed by the Buddha 2500 years ago. It is a three-week process of three hours a day. The first week is for Laughter, for expressing our natural joy and love of life. The laughter week is a great way to open up more to our feelings. The second week is for Crying, for a deep healing and unburdening of the heart. After releasing pent-up emotions through crying, we are ready to simply sit and observe, which is the core of meditation. The third week, which Osho called The Watcher on the Hills, is for sitting silently in deep meditation. It brings about an integration, a closure.
Mystic Rose Meditation is a great technique both for people new to meditation and for experienced meditators.