---
"In her books and CD's Pragito dishes up a satisfying meal for personal and spiritual
growth. You are led to a nourishing place of self-love and awareness."
— DevaPremal, best-selling recording artist
---
Book

$14.95

LAUGHTER, TEARS, SILENCE: Expressive Meditations to Calm Your Mind and Open Your Heart
"Demystifies meditation for beginners and inspires experienced practitioners."
— John Gray, author of the #1 New York Times bestseller Men Are From Mars, Women Are From Venus
---
French Edition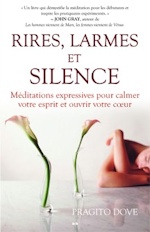 $21.95
RIRES, LARMES et SILENCE: Meditations expressives pour calmer votre esprit et ouvrir votre coeur

"Un livre qui demystifie la meditacion pour les debutants et inspire les pratiquants experimentees."
— John Gray, auteur de Les homes viennent de Mars, les femmes viennent de Venus
---
7 CD SET

$109. (save $10.)
7 CD Set
This powerful series will help you transform your life. Buy all 7 CDs and save $10.
For complete information on CDs read excerpts below.
---
CD
$16.98
GUIDED RELAXATION AND MEDITATION
"I used Pragito's CD to help me deal with upcoming surgery for prostate cancer. It helped make the surgery and recovery a very positive event in my life."
— Bob Larribeau, San Francisco, California
Relaxation within seconds! Enhance peace within as your mind clears and new resources become available for creative living. Accompanied by the mellow keyboard chords of Navyo, these gentle suggestions transport you into a profound state of calm. Use it anytime you want to relax.
Listen to sample track – 1
---
CD
$16.98
WITNESSING THE MIND
"If you want to gain mastery of your mind, buy this CD. It makes the technique of witnessing the mind easy and brings you clarity, creativity, and inner peace."
— Bobby Laxton, Tampa, Florida
Deepen your experience of witnessing the mind through this guided meditation that interweaves a delicate tapestry of music by Shastro and Nadama with silence. A profoundly relaxing atmosphere allows you to rest in the silence within.
---
CD
$16.98
LAUGHTER AND TEARS
"We rank it *****. Highly recommended. A practical tool for therapeutic laughter and personal growth."
— Steve Wilson, Co-Founder, World Laughter Tour Inc.

A transformative healing process that enhances love, joy, and creativity in all aspects of your life. In the Laughter meditation experience your sense of playfulness and fun. Then, experience the Tears meditation guided by Pragito, with a rich soundscape by Deva Premal and Miten. This comforts and supports you to release and heal old wounds, unburden your sorrows and discover peace within.
Listen to sample track – 1

Listen to sample track – 2

More information on the Laughter and Tears Workshop
---
CD
$16.98
OPENING TO LOVE
"Answers come to me more easily from my heart and I have saved a lot of time 'thinking out' decisions."
— Cecile Sullivan, Detroit, Michigan
An invitation to open your heart and remember the love that lies within. Recommended for singles and for couples who would like to improve relating. With Spanish guitar, harp, flute and sensuous vocals by Shastro, this inspiring CD will open the doorways of your heart to increasing amounts of love.
Listen to a sample track

More information on the Magic Of Love Intensive
---
CD
$16.98
WISDOM OF THE BODY
"Pragito's soothing voice guides me through the relaxation my body needs. This helps me slow down and rejuvenate."
— Debbe Geiger, New York
A guided journey to access inner wisdom and learn your body's messages. Particularly beneficial for conditions of stress, pain, and/or physical dis-ease. Delicate piano melodies accompanied with harp, strings, flute, woodwinds and ambient sounds by Nadama enhance healing and induce relaxation.
Listen to a sample track
---
CD
$16.98
GIBBERISH
"Gibberish is a fun opportunity to let go and release stress."
— Ray Hemachandra, Senior Editor, New Age Retailer
Use this powerful technique to release physical, mental and emotional stress – and have fun doing it. Stage One, gibberish, is followed by Stage Two, guided silent sitting. After emptying out the gibberish of the mind, you sit in silence. This brings you into a state of deep meditation.
Listen to a sample track
---
CD
$16.98
INSOMNIA
NEW RELEASE
"Falling asleep is effortless, as I feel a sense of safety and well-being arising. The next day I feel more creative and productive."
— Sharon DeLeute, Dallas, Texas
An irresistible invitation for a restful sleep. Gentle music by Navyo soothes you into a state of complete peace. Experience wonderful feelings of softly streaming energy that will lull you into a deep and profound sleep, bringing you a new sense of harmony, inner balance and well-being.
Listen to a sample track
---
5 CD SET

$79.90
Osho 5 CD Set
Buy all 5 CDs and get a great $5 discount.
For Complete information on CDs read excerpts below.
---
CD
$16.98
Osho Dynamic Meditation CD
[wp_cart:Osho Dynamic Meditation:price:.98:end]
This technique is best done in the morning. The first three stages are designed to get us in touch with our aliveness, vibrancy and vital energy source. The fourth and fifth stages are for silent witnessing and celebration.
---
CD
$16.98
Osho Kundalini Meditation CD (Shaking)
A powerful yet gentle way to de-stress and re-connect with oneself.
The four stages are: shaking, dancing, sitting silently and relaxing.
---
CD
$16.98
Osho Nadabrahma Meditation CD (Humming)
Based on an old Tibetan technique of humming, this method creates deep healing throughout the body and mind.
---
CD
$16.98
Osho Nataraj Meditation CD (Dancing)
Dance as meditation – disappearing in the dance, then relaxing into deep silence. Invokes joy, creativity and a sense of freedom.
---
CD
$16.98
Osho Chakra Sounds Meditation CD (Humming)
Using humming sounds made by the meditator along with music, this technique helps us to calm, center and focus ourselves.
---
CD DOWNLOAD
$277.00
AVAILABLE NOW
The Discover Meditation™ Home Study Course
Each of these 11 Disk sets gives you empowering "insights" that leave you with actionable steps and thoughts to keep you focused on your dreams, and creating your life just as you want it to be
11 CD Set – Available as MP3 download
---
BOOK
$12.00
AVAILABLE NOW IN PAPERBACK!
LUNCHTIME ENLIGHTENMENT – Meditations to Transform Your Life NOW
– at Work, at Home, at Play (Penguin)
"I highly recommend this extraordinary book."
– Margot Anand, author of The Art of Everyday Ecstasy
RETURNS POLICY
Defective products can be returned within 30 days from the date of purchase. If found to be defective we will send a replacement copy of the same title. Please call for a return authorization before sending us the damaged product.
Customer Service
1.800.919.3683