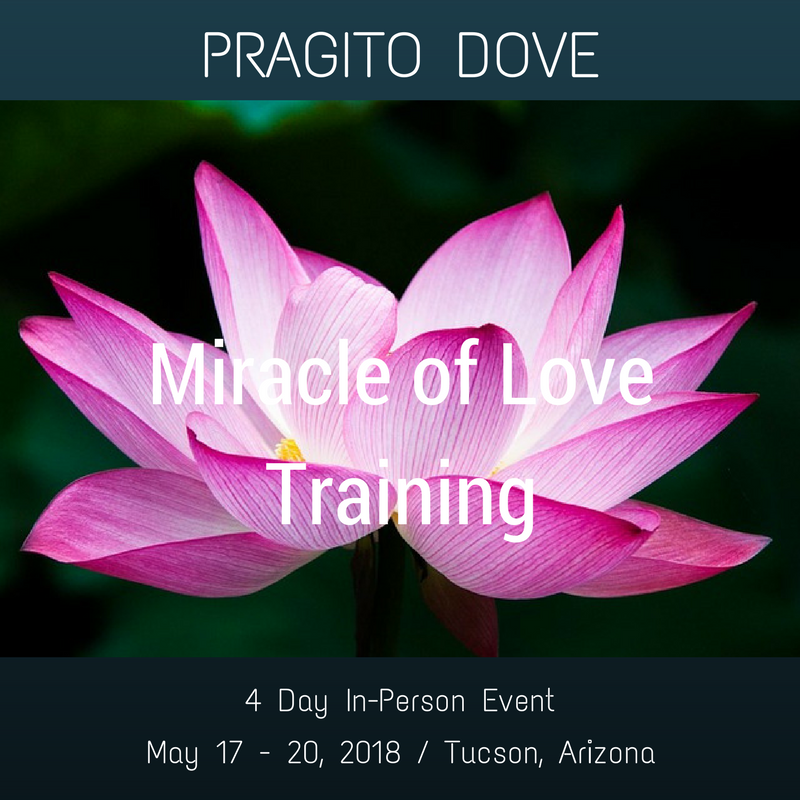 LIVE In-Person Event
4-Day Miracle of Love Training
Tucson, Arizona
May 17-20, 2018
Would you like to get answers to these questions?
What is Love?
How can I fully accept myself?
How can I have more Love in my life?
Do you also want to help others have more loving relationships?
Then this Training might be right for you.
Miracle of Love is a beautiful way to immerse your spirit in an experience of pure peace, love and joy.
This intimate training empowers you to enter a state of pure being. You will experience personal support on the level of your soul. This training calls you to go deeper into the energy of Love and surrender to the Divine.
Miracle of Love is offered in a beautiful setting created to lift you out of the mundane and help you transcend whatever has been holding you back from experiencing the deepest peace, love, and happiness possible.
Immersing yourself in four days of powerful Divine Love energy will fundamentally change your life, internally and externally, because when you raise your vibrational frequency it will be reflected outwardly in your life. Please join me for this amazing adventure of transformation and realization in an unmatched setting of the peace and silence of the Tucson mountains.
Here is just a portion of what you learn:
The 4 Keys to Love
How to let love in
The difference between loneliness and aloneness
How to use effective, honest communication with the people in your life
The true meaning of intimacy (It's not what you think!)
How to transform judgment into acceptance
The process of learning to create and sustain love in your life – for another as well as with yourself – begins with a deep acceptance and understanding of your fears, insecurities and emotional needs. These aspects of yourself are often cloaked in judgment or denial and from there they can easily sabotage your life. When you are at peace with your wounded vulnerability and start to become gentle with your fears, a deep softening happens inside that allows your true authentic self to safely emerge.
In Miracle of Love we delve deeper into self-acceptance, self-love, and self-respect, the cornerstones of a happy, fulfilling life. Through a wide range of meditation techniques, including heart-centered techniques, expressive techniques and the popular laughter meditation, you will learn how to bring deeper insight, understanding and healing to yourself, and to all your relationships. Experience the freedom of loving and accepting who you are NOW, of responding to others with awareness instead of reacting from past conditioning, and of unleashing your full creative expression.
In addition you learn how to:
Eliminate blame and criticism from any relationship – including yourself!
Speak your truth despite fear
Access your true power and return to complete authenticity
Increase your self confidence
Love, trust and value yourself, rather than striving for recognition from others
Transform feelings of unworthiness into acceptance of your true self
Re-ignite the fire of passion, joy and playfulness in your life
Attract people who are a match for you and know when you have
And much more….
Miracle of Love Training is an immersion in the energy of Divine Love that provides a profound elevation of your vibrational frequency. This has the power to free the potential of your soul and liberate you from all limitations. Your life reflects your vibrational frequency and when that frequency is up-leveled to the most expanded state your full potential is freed up – and that is what will be expressed in your life.
Join me for the only LIVE Training I'm offering in 2018 – from May 17 – 20 in beautiful Tucson, Arizona and surrender into an immersive experience that promises to activate your capacity to experience Divine Love, free you from past conditionings, and increase your capacity to share your love and creativity with others.
TRANSFORMATION IN PARADISE:
Tucson sits in a valley ringed by mountain ranges and the sun shines more than 340 days a year. The Saguaro National Park on the west side contrasts with the Catalina Foothills over to the east. There are first class resorts, restaurants and hiking trails, most with spectacular views of the entire valley. Tucson's rich cultural heritage centers around a unique blend of Native American, Spanish, Mexican and Anglo-American influences. These can be seen in the Hispanic barrios, historical and contemporary American architecture and the prehistoric Native American remnants. Tucson is renowned for it's multi-cultural cuisine, hiking and biking trails, star gazing and beautiful Sonoran Desert sunsets and sunrises.
Join Pragito for four transformational days embraced in the natural splendor of this lovely city surrounded by beautiful mountains and expand into all you are here to be.
WHAT'S INCLUDED:
4 days of training with Pragito beginning on Thursday, May 17 through Sunday, May 20
Course materials
Breakfast each morning
Welcome Reception at 6:30pm on Thursday, May 17
A Catered Farewell Luncheon at 12:00 noon on Sunday, May 20
Catered Luncheons on Wednesday, May 18 and Thursday, May 19
Free time to explore Tucson on your own and visit its award-winning restaurants, the canyons, shopping areas… or just relax by the pool.
REGISTRATION DETAILS:
MIRACLE OF  LOVE  TRAINING FEE:
$2,695.00                $2,195.00 Special Offer when paid in full by March 16th, 2018
For payment plan options call Pragito's office 520.639.6187
Note:Airfare, transportation to and from the Resort, and hotel accommodation are
NOT included in the Miracle of Love Training Fee.
All Special Offers for Discover Meditation Training Programs are non-refundable and non-transferable

TRAVEL PLANNING
1. Travel to Phoenix airport where you can EITHER rent a car for the approximate 2 hr scenic drive to the hotel (straight EAST down highway 10)
OR take the Tucson-Phoenix airport shuttle (one and a half hours) to Tucson and then take a cab (approx.15 mins).
2. Travel to Tucson airport where you can EITHER rent a car OR take a cab to the hotel. (Approx.30 min drive to hotel).
Plan your travel so you will be able to arrive, get settled and check-in to the Welcome Reception at 6:30 PM on Thusday, May 17th. The final session will come to a close on Sunday, May 20th at 12:00 PM followed by a farewell luncheon.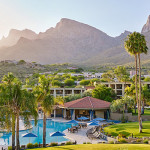 EVENT LOCATION
Hilton El Conquistador Resort
10000 N Oracle Road
Tucson, AZ 85704
Phone: (520) 544-5000
Website
ACCOMMODATIONS: the beautiful Hilton El Conquistador Resort has afforded the special room rate for our group of $159 per night for their charming Guest Rooms.
Other Concessions include:
Complimentary guest room internet, usually $12.95
Free Parking
Complimentary daily use of fitness facilities and wellness classes for 2 people per room per day.
Use of pool
Two (2) complimentary bottles of water upon arrival
No Resort Fees
Hilton Rewards
There are a limited number of rooms available. This exceptional room rate is accessible only through a special link provided to you once you register for the Miracle of Love Training. Register now for the Miracle of Love Training to receive the link and secure your room.

ACCLAIM FROM STUDENTS
"Miracle Of Love Training was simply off the charts. It was more than any of us expected. Thanks for taking me to a whole new level of love, joy, and inner peace." – Ana Pedersen, NY
"This work helped me put the love, passion and playfulness back into my marriage."
– Chris Nessier, San Rafael, CA
"Now I have the trust in myself, with Pragito's loving encouragement, to be a true wisdom teacher. Pragito initiated my heart and the strength of that initiation has only grown in power. My confidence and comfort level increased as the Training progressed. I thrived on the immersion into Divine Love and I now have more clarity on my mission and calling and how I can use my gifts to serve."
— Anita McKillo, Cleveland, OH
"Pragito has a way of shining her light into the deep parts you've hidden away for no one to ever see. She brings this pain to the surface where it can be released. Her presence alone is healing.The belief and faith she has in me is contagious. I came back with a feeling of vitality and energy I had forgotten was possible. Pragito worked with me to regain my self and my self-confidence."
— Tina Andrews, Seattle, WA
"Miracle Of Love Training was what my heart and soul were crying out for. I am blown away that the power of love and laughter are far stronger than any struggle. I am excited about my life now."
– Deanna Burns, Miami, FL
"This Training helped me achieve a level of peace, love and joy that I never knew existed."
— Lisa Bramley, San Diego, CA
"I traveled thousands of miles to experience Miracle Of Love Training, and it was worth it. In terms of learning respect, love and acceptance of myself, this was the absolute pinnacle." — Shona Williams, London, UK