CONGRATULATIONS! Here's your Bonus Free Gift from Pragito Dove
Special Abridged Gift Electronic Version of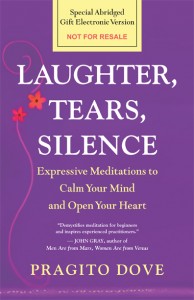 Pragito Dove's bestselling book
"Laughter, Tears, Silence: Expressive Meditations to
Calm Your Mind and Open Your Heart"
This Special Abridged Gift Version has been specially prepared
by the author, spiritual teacher, Pragito Dove.
Includes laughter practices on releasing pain and fear and discovering love, joy, and inner peace.
The meditation techniques included in this Special Gift Edition help with releasing stress, healing fear and unleashing our playfulness and creativity. As the creative energy is released insights arise and our inner wisdom becomes available for expression. Ideal for children, parents, couples, singles, writers and all of you seeking more love, happiness, inner peace and creative expression.
When you fill out the form below you'll receive a downloadable pdf and a free subscription to the Laughing Buddhas Network newsletter, with our weekly meditations, laughter tips, and wisdom for living a rich life. Thank you.
"Pragito helps us clear out the clutter of an over-crowded mind so that we can settle into the calm pool of joy-filled silence we all have within us."
— Dr. Madan Kataria, Laughter Yoga International
—-


"Pragito demystifies meditation for beginners and inspires experienced practitioners."
— Dr.John Gray, Men Are From Mars, Women Are From Venus
—–
—–

"Pragito's work is full of rich lessons in the nature of living a great life."
–T.Harv Eker, author of the #1 New York Times bestseller "secrets of the Millionaire Mind

"Pragito skillfully proves that there is no time when meditation is not possible and enlightenment is not imminent."

— Michael Bernard Beckwith, visionary from The Secret and author of Spiritual Liberation
Pragito Dove is a master trainer, speaker, and meditation expert who teaches people how to transform pain and fear into joy and inner peace in order to achieve real world success. A best-selling author and laughter meditation advocate, she founded the Laughing Buddhas Network to make happiness accessible to all.