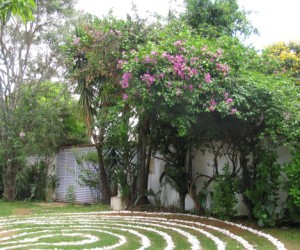 I have just returned from my second visit to Brazilian healer, John of God. For those of you not familiar with his work, let me give you some background.
Joao Teixeira de Faria was born into a simple family on June 24th, 1942  as the youngest of six children. He was only able to finish second grade, as he had to leave school and start work to help support his family. Joao still does not know how to read or write to this day.
At age nine he had his first mediumship experience and from then onwards he dedicated his life to  healing people. As a medium, benevolent spirits utilize his body – one at a time – to perform extraordinary acts of healing, which includes both physical and psychic surgeries or interventions, as they are now referred to. When Joao is acting as a host, he is referred to as Joao de Deus  – "John of God" in English. He is an "unconscious" medium, because he has no memory of what he does when he is a host to an entity.
In his over sixty years as a medium he has helped millions of people to get healed from cancer and blindness to AIDS and mental diseases. Despite his incredible success rate and all the attention he gets, he has helped Oprah, Dr. Wayne Dwyer, the president of Brazil, and Paul Simon, just to name a few, he continues to humbly say that "it is God who heals and not I".
It is an amazing experience to be in the presence of John of God's healing energy. On this, my second visit, the healing felt more subtle than my first vist, when I had an actual physical surgery. It was as if the Entity (the benevolent spirit) knew I was ready for deeper levels of awareness, relaxation and inner stillness. I received  insights into various situations in my life, and re-affirmed my purpose to continue the healing work that I offer.
Many people go to the Casa in Abadiania, (a small town in the hinterland of Brasilia) simply out of gratitude, to sit in the "current" – which is the meditation area in the main healing room, to deepen their own meditation and to support the healing work being carried out on others. We all help each other, led by this extraordinary, yet very ordinary man, Joao Teixeira. No one is turned away, and the healings are free.
It is refreshing to have such an experience and to realize that there is hope for everyone who seeks help. Despite the problems in the world, for example: poverty, violence in inner-cities, child sex trafficking, fighting  in the Middle East, one man has brought healing to hundreds of thousands  of people worldwide. He is an unsung hero that I respect for his dedication, commitment, and courage to hold healing sessions 3 days a week for the past 60 years as a service to humanity.  I am honored to bring John of God's work to your attention.
If you have enjoyed this article, then please do leave a comment below, sign up for my free Laughing Buddhas Network newsletter, and follow me on Twitter.