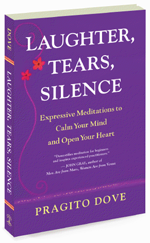 Pragito Dove is interviewed by Marilyn Suttle, co-author of the bestselling book "Who's Your Gladys? How To Turn Even The most Difficult Customer Into Your Biggest Fan".
Three Master Keys for Anxiety Relief & Stress-Free Living
Pragito discusses her 3 Master Keys for:
*  overcoming fear of rejection
*  building confidence
*  having patience and compassion under fire
*  achieving clarity of mind for decision making
*  maintaining your sense of humor in difficult situations
*  serving clients with high expectations & low tolerance
and much more….