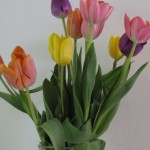 Disconnect yourself from anything that is connected with fear. That's how  maturity comes.
Just watch all your acts, all your beliefs, and find out whether they are  based in reality, in experience, or based in fear. And anything based in fear has to be dropped immediately, without a second thought. It is your armor. The very awareness that the fear is there will help you drop it.
We go on living out of fear — that's why we go on poisoning our experiences. We love somebody, but if it is out of fear: it spoils, it poisons.  Whatever you do, remember one thing: out of fear you are not going to grow. You will only contract and shrink.
Fearlessness means dropping all armor. A fearless person has everything that life wants to give you as a gift. Now there is no barrier. You will be showered with gifts, and whatever you do you will have a strength, a power, a certainty, a tremendous feeling of authority.
A person living out of fear is always trembling inside. You are continuously in a state of stress, because life is big, and if you are continuously in fear…. And there is every kind of fear. You can make a big list, and you will be surprised how many fears are there — and you are still alive! There are infections all around, diseases, dangers, kidnapping, terrorists…and such a small life. And finally there is death, which you cannot avoid. Your whole life will become dark.
Drop the fear! The fear was taken up by you in your childhood unconsciously; now consciously drop it and be mature. Pay attention to your fears, allow them, welcome them,be present with them and they will dissolve in the powerful light your Presence shines. Presence is more powerful than any fear.
And then life can be a light which goes on deepening as you go on growing.
4 Minute Meditation: Facing Fear
BENEFITS
By facing our fears we dissolve our shadow side. The light of onscious awareness illuminates the darkness of fear and reveals the splendor of our essential being, which is pure light. We become more confident and trusting in ourselves and in life itself. We become more attuned to our inner wisdom.
Fear arises in many situations. Deep down it is always there. It is the very foundation of unconscious life. By this I mean that it is buried deep in our unconscious and fuels many of our actions. By finding the courage to stand in our fears and allow them to be there, we see them clearly and gain insight into what is at their root. We bring them from the unconscious to the conscious.
Choose a person or situation that makes you feel fearful. Look deeply into it. Continuing to stand in the fear, see what is at the root of it.
Do not act out of fear. Wait until it has passed. Give it twenty-four to forty-eight hours, if necessary. Then, when you are calm and clear, take action.
Learn how you can use meditation techniques for anxiety relief.