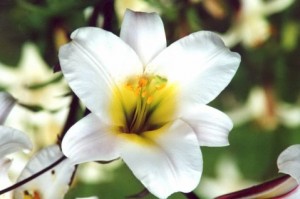 I'll start with my own story.  In four weeks I am scheduled to give a presentation at the Association of Applied Therapeutic Humor(AATH) Conference in Orlando, Florida.
My plans have had to change since I got the results of an X-ray on my lower back. The s.i. joint needs attention and it will not be healed soon enough to make the journey from San Francisco to Orlando.
I was disappointed. However as I dropped into acceptance, realized how things could be much worse (I don't need surgery!!), I came to peace with the situation. I have to surrender to my body's vulnerability.
The Law of Least Effort
The spiritual Law of Least Effort teaches how we can experience more love, creativity, and happiness in our lives by relinquishing the need to struggle against the present moment. 
My choices were to fight or accept the situation. Acceptance is more relaxing, and opens me to receiving. Who knows what might show up in my life now………..(I'll keep you posted!)
As we are growing up many of us are taught to numb out our shame, pain and fear(our vulnerability) in a variety of ways: drugs, alcohol, over-eating, over-working to name a few.  The problem with this is that you cannot selectively numb: if you numb your shame, pain and fear then you also numb your joy, creativity, love, courage and vitality.
If you have numbed out too much and are not sure how to find your way back to connection, then discovering the following qualities in yourself can help:
 *   Courage to be imperfect
*  Compassion for yourself
*  Authenticity
*  Vulnerability
People who are willing to be vulnerable have a much greater ability to be connected with themselves, and with others. It comes down to feeling worthy of being loved. The person we must love first is ourselves, right?
Do you feel worthy of love? Can you accept yourself the way you are right now with all your imperfections? What makes you feel vulnerable?
The truth is we are all enough exactly the way we are in this moment right now. By deciding that you are worthy of love you can claim connection with yourself and others. Even if you don't quite believe it at first, act as if you are worthy of love and soon it becomes a reality.
 Here are four ways to cultivate feeling worthy of love (which means being vulnerable):
1. Let yourself be seen
2. Love with your whole heart
3. Practice gratitude and joy
4. Realize "I am enough"
 The result is you become kinder and gentler with yourself and with others.
Here is a powerful meditation to practice. I look forward to reading your comments. And I appreciate you forwarding  this to people you think will benefit.
4 Minute Meditation: Befriend Yourself
BENEFITS
As you practice this technique your self-love, self-respect, and self-acceptance become stronger. Your ability to trust your intuitive intelligence and inner wisdom is greatly enhanced.
STEP ONE
Write down one thing you like about yourself. Sit in silence, with eyes closed, and focus on this quality, accepting that there is indeed something very likeable about you.
STEP TWO
Write down one thing that you do not like, or wish was different, about yourself. Sit in silence, with eyes closed, and accept that you are not perfect, that no one is perfect. Accept yourself the way you are, including this flaw. Give yourself permission to accept who you are in this moment.