1. IDENTIFY WHAT YOU WANT
One of the ma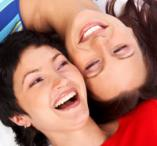 in reasons people don't get what they want is because they don't know what they want.
Write down your top 8 dreams for body, mind, heart and soul. Be clear and succinct or you'll start to feel confused and overwhelmed. If you have too many, narrow it down to the essential 8.
Then write one thing you can do every day to bring your dreams into reality. For example: "I want to be happy. I commit to 2 minutes of laughter meditation every day". "I want to be fit and healthy. I commit to walking at least 120 steps every day". 
By keeping your dreams simple, clear and doable on a daily basis, the likelihood of them coming true increases by 80%!
 2. LOG ALL PROOF 
Keep a journal to record EVIDENCE that your dreams are coming true. Each day, notice when you feel happy, when you feel healthy and fit and write it down. When you log into your journal positive EVIDENCE that your dreams are happening, it increases your confidence and ignites your passion to persevere, even on less-than-optimal days.
3. PAY ATTENTION TO YOUR THOUGHTS
Thoughts create words which create actions. Keep your thoughts positive. If you find yourself slipping into doubt,"I'll never be fit and healthy – I don't believe it can happen for me", reel yourself in and remember that you can RE-FRAME every thought into a positive.  "I love myself and I'm taking steps every day towards feeling fit and healthy."
4. STAY CONNECTED TO LIKE-MINDED PEOPLE
Avoid naysayers, negative TV and newscasts like the plague. Keep yourself connected to people who also want to stay positive and go for their dreams. Isolation is a dream-killer. Read my free newsletters, blogs, and Facebook page. If you've already read my book "Laughter, Tears, Silence: Expressive Meditations to Calm Your Mind and Open Your Heart"  read it two more times. Seek out positive reinforcement.Join my next Laughter Meditation 101 teletraining. This monthly one hour call guarantees to keep you connected to like-minded positive people.
5. CELEBRATE
All wins, big and small are important. What we focus on expands. The more you celebrate and share your wins, however small, you expand your capacity to receive even more goodies. You are creating a HABIT OF SUCCESS. Even if you have nothing in particular to celebrate, celebrate anyway, celebrate yourself for having the courage to follow your dreams.
6. BE AWARE OF TIMING
Right Timing is an essential part of the dream manifesting process. If things are not happening fast enough for you, remember that the universe has the big picture overview, not you. You might have to be patient and TRUST that what is meant for you will come to you at the right time, not a day sooner, not a day later.
7. BE GRATEFULGratitude for what you already have is key to attracting what you want. Law of Attraction states that there are two types of vibrations: positive and negative. Being grateful keeps you in the positive vibration and attracts even more of what you already have into your life. Is that good or good?
 Here's a powerful meditation for you to practice to help you be aware of your thoughts.
4 Minute Meditation: The Power of Presence
BENEFITS:
The power of your presence shines so much light and love on your inner world that negative thoughts dissolve and only peace, wisdom, and joy remain. Problems either dissolve or solutions arise.
Sit comfortably with eyes closed. Watch the thoughts passing across your mind. It doesn't matter if they are good or bad thoughts. They are all thoughts. Let them pass by. If you notice yourself drifting into the past or the future, take a deep breath and, with non-judgment and compassion, come back to the present.
 I look forward to reading about your dreams in the comments. To your success!